Name:
#276 (answers primarily to 'Crab' and a variety of insults)
Age:
7 years since the intial transformation
Gender:
Male
Team
: Unaligned
Class
: Deep Water Reconnaissance Unit (DWRU)
Nationality:
Crab
Ethnicity:
Crab
Languages:
English and Crab
Appearance:
A horseshoe crab. In a manner of speaking.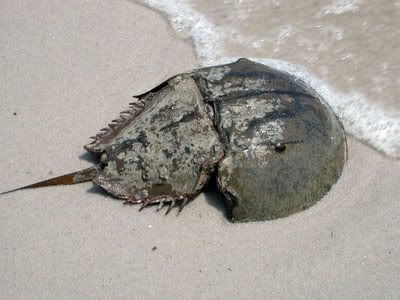 But this would be grossly simplifying the fact.
The three foot wide shell looks for all the world like an ordinary horsehoe crab scaled up to prehistoric proportions. There is a set of four titanium screws drilled into the thickest portion of the shell between its 'eyes', with faint scaring indicating that something was once held in place there. Its spike tail has also been replaced with titanium, in some bizzare attempt to weaponize the only pointy end of a horseshoe crab.
Under the shell, each appendage ends in a segmented human-like hand. There is a human head located under the shell itself, only visible if the crab is flipped over, and lacks eyes, ears, and a nose. The mouth can be seen if the crab lifts itself up off the ground a bit, the shell acting like the brim of a very large hat.
Personality:
Almost entirely 'needs' driven, as his primative animal of origin would be. If he's not in hunger or immediate danger, he just won't care. Regardless, if approached for assistance or conversation, he'll be happy to oblige so long as something is offered in exchange. You may find, unfortunately, if he can manage to get through an entrance he'll gladly ransack either of the bases in search of food or cigarettes.
Sexuality:
...absolutely not. No. This would only be triggered by a similarly sized lady horseshoe crab, and by god I hope there aren't any out there.
Strengths:
Able to stay underwater for days at a time, slight stealth, can flip self back over in the event of being flipped over, tail spike is articulated and can be used as a weapon
Weaknesses:
Shell is extremely prone to cracking, can't really fight, completely fucking worthless
History:
Here, the file becomes nothing more then a completely blacked out mess - the text has been entirely marked over, faces on all photographs blurred or obstructed, and all locations are listed as [REDACTED]. The only legible text, a hastily scrawled note in red pen reads:

REMINDER: this is what happens to cowards and triple-crossers
.....Limulus polyphemus

HYBRID PREPARED FOR TESTING / DEEP WATER SCOUTING
......SUBJECT LOST INTEREST IN TARGET, PROJECT ABANDONED
......HYBRID PREPARED FOR STEALTH / TERMINATION MISSION
......SUBJECT WAS STEPPED ON BY TERMINATION TARGET, PROJECT ABANDONED
.......HYBRID PREPARED FOR LAND SCOUTING
.......SUBJECT ATTEMPTED TO ESCAPE BASE THROUGH TOILET, PROJECT ABANDONED
......REQUESTING PERMISSION TO TRANSFER LAST VIABLE SUBJECT TO SWAMP RAT BASE